Perspectives

Apr 27, 2018
Design Week 2018: Beyond Furnishing
Find out more
The 57th edition of the Salone del Mobile of Milan has just come to an end - the yearly event taking over the city for an entire week with design, new technologies and cutting-edge communication spaces.
This time the date was double: in addition to design furnishing, Eurocucina was on stage – the biennial event now at its 22nd edition – and its parent event, FTK Technology for the Kitchen, dedicated to the evolution of household appliance technology.
This year we asked our younger team to guide us through the pavilions: designers, engineers, communication and marketing experts took turns in visiting the Salone and Fuorisalone on a mission to find the most outstanding and creative ideas in terms of design, technology and communication.
CMF Design – New applications of color, matter and finish
Among the Salone pavilions, our designers witnessed a trend of bold colors and rounded soft lines. There is always great care for details, but what struck us more was the study and search for alternative materials:
«The wood and stone cooktops by Elica were one of a kind» says Iciar – a young Spanish designer – who discovered many other examples of alternative materials.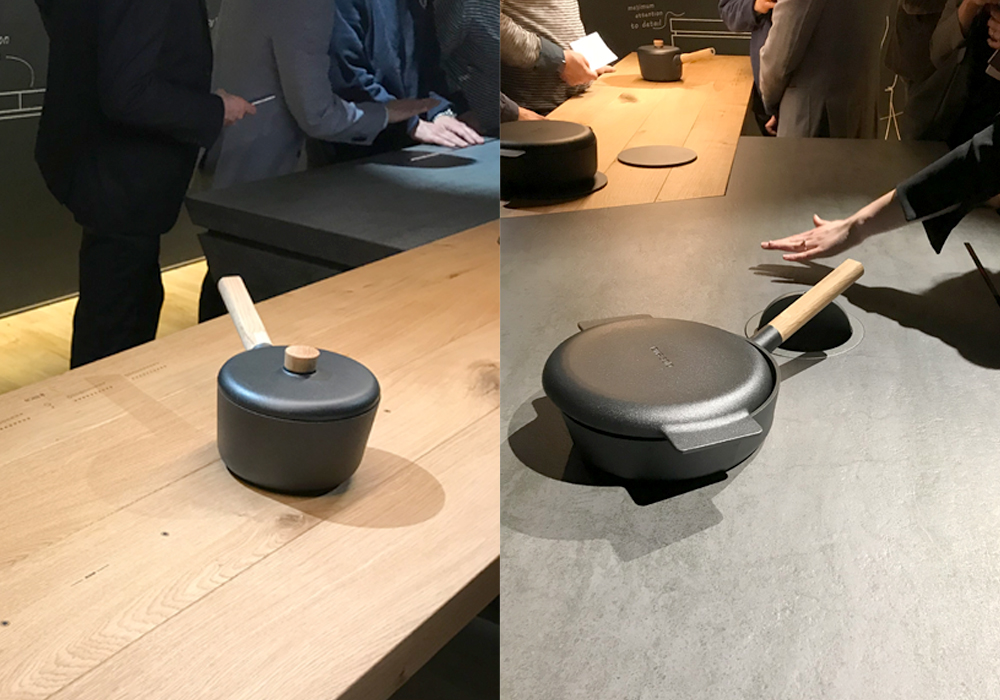 Whirlpool staged its exploration of alternative materials through multiple concepts for top class household appliances.
«Whirlpool's new collection aims at applying new matter textures, a trend which is definitely becoming more and more popular in the kitchen» said Roberto, Sr. Designer.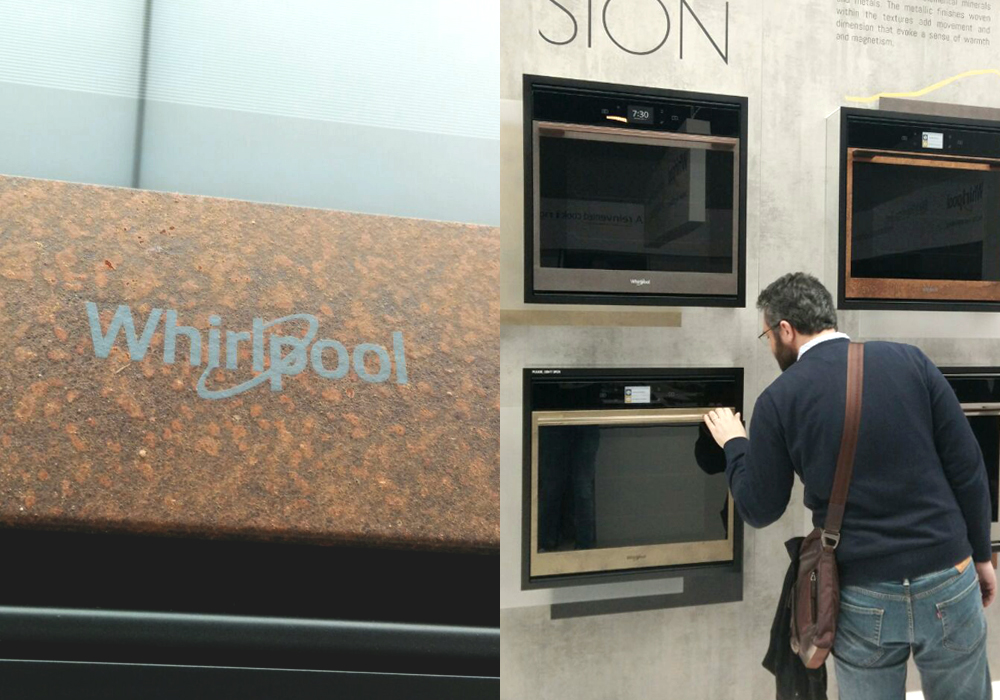 Eurocucina and user-oriented design
Eurocucina showcases the most outstanding, yet authentic, achievements of product design, the one that goes way beyond designing just furniture, by conceiving interacting systems and products to make users' life easier.
Bosch continues to focus on Mykie, the kitchen personal assistant connecting to an ever-growing number of household appliances through Home Connect. At Eurocucina, Bosch presented a new dishwasher that counts the washes and notifies the number left before running out of detergent on the user's smartphone.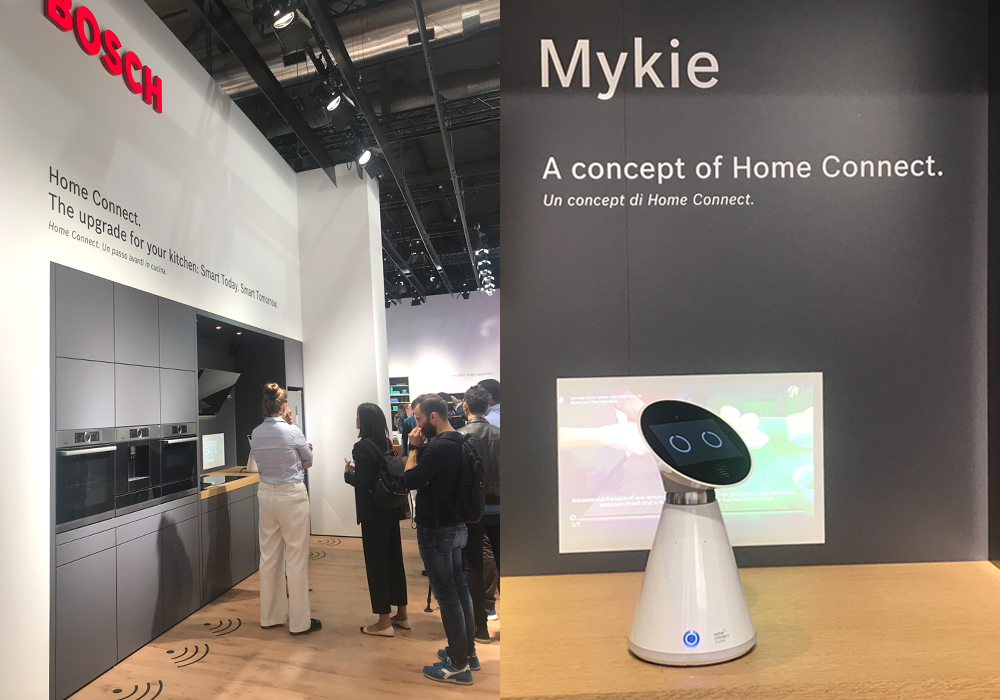 All eyes were trained on Electrolux with its Assisted Cooking concepts: alluring aesthetics and solutions - digital and non-digital – which really focus on the user and his needs. Take the fridge with a clear band on the door: when you step in front, a light turns on illuminating the fruit and vegetable drawer, promoting produce consumption for a healthier diet.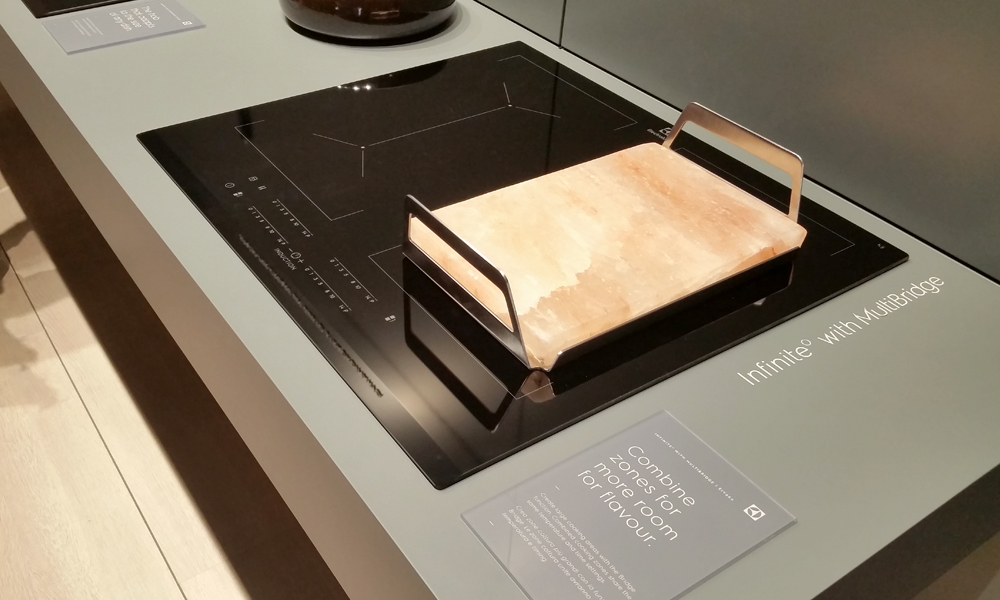 The upside-down evolution of kitchen hoods
The Miele and Netatmo partnership was a hit for technology and communication: a well-structured stand which attracts and successfully communicates the new Healthy Home Coach system for air quality control. The "Pearl" hood by Miele communicates with the Netatmo device and turns red, green or white based on the quality of air, assessing temperature, humidity, quantity of oxygen and CO2.
Kitchen hoods were protagonist for various brands this year. Bora and Elica also presented new solutions which literally turn the hood conception upside down: they are now built in the cooktop. Elica went wild in designing its stand as well, featuring lamps on the floor and pots and kitchens hanging from the ceiling. A creative stand which did not completely win over our Art Director Martina:
«A stand masterly crafted, but the colors and lighting solutions did not quite reflect Elica's communication philosophy».
Communicating craftsmanship
Piaval's communication stood out for its originality and the high quality of graphics. The stand showed great care for details while fashionably communicating the attention for materials and craftsmanship of this historical brand, symbol of Made in Italy furnishing.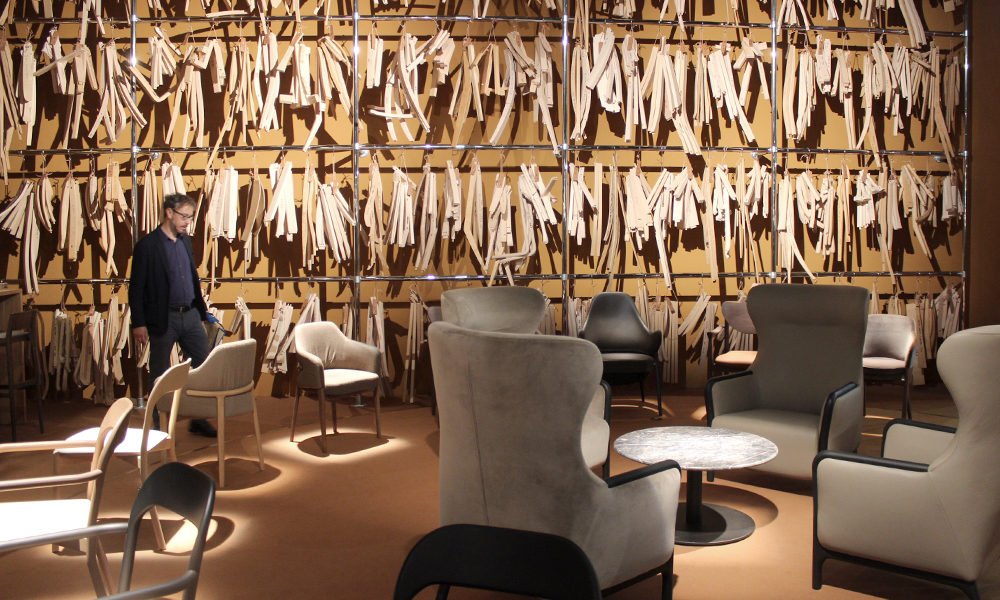 Fuorisalone: digital and non-digital experiences that charm and engage
As every year at the Fuorisalone, amazing is a must. Some of the leading brands have succeeded in creating immersive digital experiences and asking visitors to enter their communication universe.
Videos were key to the experience: showings on large screens, clear meshes and mirrors showcasing new technologies and high-tech products in an original fashion of great impact. The combination of multiple styles and production techniques wins over the specialists of the sector as well.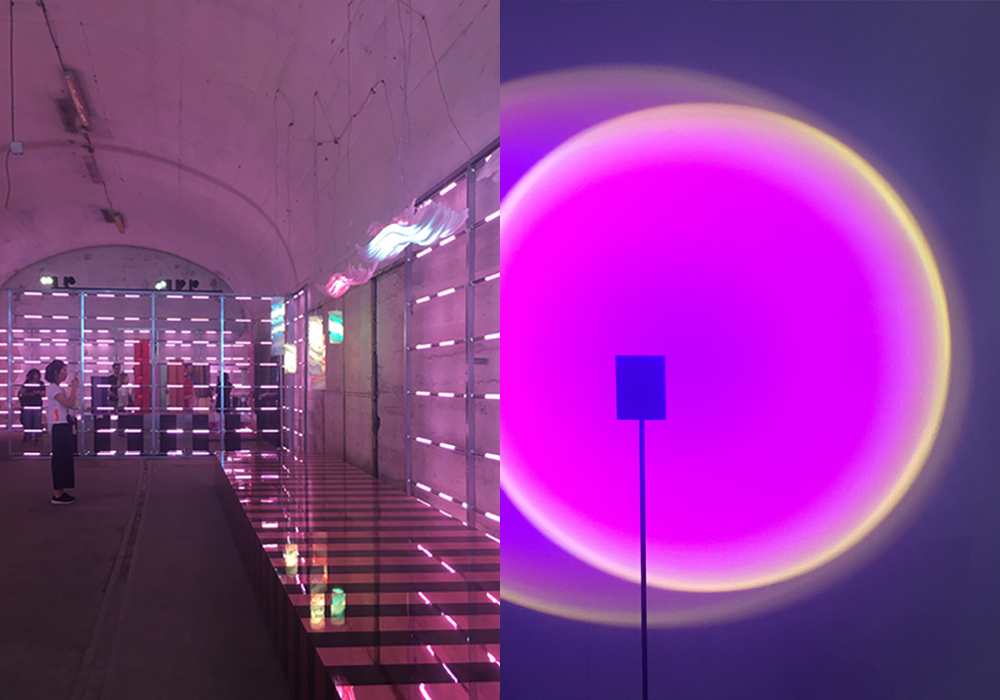 Three of the most compelling experiences of Fuorisalone 2018:
Sony put itself to the test through an interactive sensory path. Light, volume, touch and sound sensors helped users bring unexpected and breathtaking experiences to life. Here technology becomes more sophisticated, and yet intuitive, able to spur a natural interaction between man and machine.
Miele welcomed its guests by staging a real show: iridescent video walls, a narrating voice, a sensational countdown and a live product torture-test: can fish be baked inside an ice cube without melting the ice? Yes, it can, with electromagnetic wave modulation by Dialog Oven.
Google has put aside the software to present its sustainable future and Softwear. A compelling play of words, for a vision of the world where technology is present in large amounts, yet not as protagonist. Techie fans may have been caught off guard, but we accept the challenge!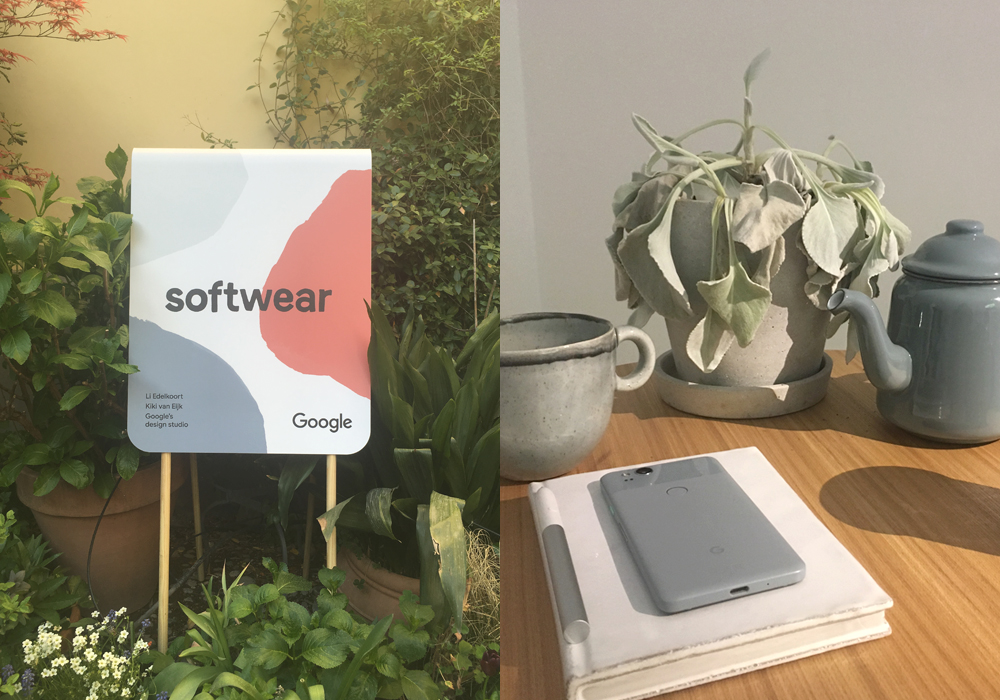 Connectivity, IoT and new trends after a pandemic: a conversation with our Lead UX Designer

Technological updating and the integration of an interconnected soul are turning modern professional kitchens into a perfect example of the 4.0 industry, where the product and its super digital powers become a tool to improve working conditions, enhance productivity, monitor the processes to achieve better results and create new business models